Thursday, April 18, 2019
6:00 - 8:00 pm
Prince of Faith Lutheran Church (2523 - 56 Street NE, Calgary)
This event has already occurred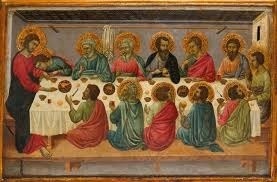 What is an Agapé Meal?
It is a meal, and it is worship. Both are intertwined with one another. It is a time of worship and fellowship, based on the gatherings of the early Christian Church. Interwoven with the sharing of physical nourishment, we also share in spiritual nourishment in the bread and wine of Holy Communion. It is not an overly formal evening – it is a "family dinner". ("Agapé", by the way, is a Greek word for "love").
At the same time, we need to remember what it is not. It is not simply a pot-luck. It is also not a Passover Meal, or "Seder Supper". If you have shared in an Agapé Meal before, you'll know how unique a gathering it is. If you haven't, talk to someone else who has – or better yet, come out and experience it first-hand!
In order to make this evening "happen", we need to know a couple of things: we need to know how many people to set the table for, and we need to know that certain items will be there. So, we ask that if you are planning on attending you either use the sign up sheet in the Narthex or contact the Church office to let us know numbers and what you intend to contribute towards the potluck meal.